Whole-wheat Parata
This recipe is very similar to the Parata recipe. This batch of paratas are made with wholewheat flour.
Although the recipes are so similar I included it as the images may be helpful. The techniques used to make the whole-wheat parata and the white flour paratas are the same.
Ingredients
3 cups wholewheat flour
2½ tblsp. canola oil
½ tsp. salt
1 tblsp. sugar
Approximately 6 oz. hard, cold butter
1½ cups boiling water
Method
Add boiling water to flour, a little at a time. Knead to a soft dough. Keep aside for 20 min.
Divide into 10 balls
On a bread board or any clean flat surface, using a rolling pin, roll one ball at a time
Sprinkle flour on the board as well as your rolling pin if the dough tends to stick. Roll out to about a 7" circle
On the bottom half of the rolled dough, slice fine slivers of hard butter on the lower half. (See image at right) Sprinkle flour on dough and fold into a quarter
Sprinkle flour on the quarter & keep in the refrigerator for 30 minutes or longer, before rolling again
This step hardens the butter & prevents the butter from oozing out of the dough when rolled. Take care not to break up the butter that has been filled. If it tends to get exposed sprinkle with more flour
You may get an oblong shape because you will be rolling from a triangle shape and that is okay
Heat pan or tava on medium-high heat. Place rolled dough onto pan. Press lightly to allow dough to rise. Apply a dab of butter and spread on dough, then flip to fry the other side
When both sides have brown specks, the paratas are cooked. Serve fresh with curries.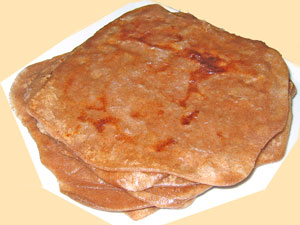 Parata, cooked & ready to be served
parata dough being fried on pan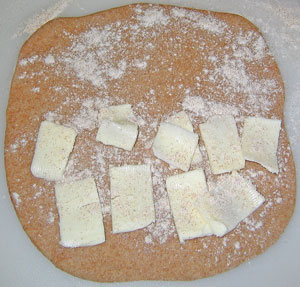 Rolled Parata Dough just put onto pan for frying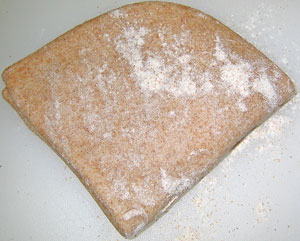 Rolled Parata Dough just put onto pan for frying
---
If you have any questions or would like to add a recipe of your own, email me, Nirmala, at
.
I will be happy to help in any way I can. The site will be regularly updated with tasty recipes and hints and tips. You can also reach me at Contact
---
Now quickly and easily navigate to your next destination.
---