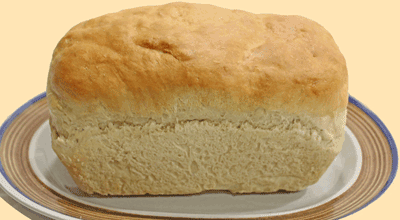 Baked Bread on platter, cool and ready to be sliced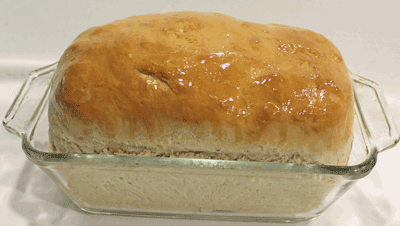 Baked Loaf with top glazed with coconut oil
White Bread
My recent attempts to bake bread have turned out very well. I was able to create a beautiful, delicious loaf of white bread. It is also vegan. I must give credit to a recipe for Bread, in the Indian Delights Recipe book, that I used as a guide and then modified the recipe.
I halved the ingredients and adjusted the amount of yeast. I also used cooking coconut oil to replace the ghee. This bread rises very quickly and only needs to rise 2 times before it is ready to be baked.
If you prefer to use ghee or butter, the recipe should still turn out well. It is also a good bread to make bunny chows. It slices very well to make sandwiches or toast.
Steam in the oven is said to assist in getting a soft loaf of bread. If you already know how to create steam in your oven then use that method or check the internet for suggestions. This is my method. I used an oven proof bowl, half filled it with boiling water and then added several pieces of ice and quickly placed it on the oven rack. It is ideal to place it on a lower rack, but I did not have a lower rack, so I placed it at the side of rack where the bread dough would be placed.
Here is the recipe for White Bread
Ingredients
4 cups all purpose flour
1½ tsp./7.5ml salt
5 ml/1tsp. sugar
15 ml or 3 teaspoons instant yeast
1 tblsp. soft vegan butter, or thick coconut oil(I used coconut oil. You may choose to use regular butter or ghee)
2 cups warm water,(divided)
Method
Combine yeast, sugar and 1½ cups warm water. Mix and allow yeast to prove
Sift salt and flour
Rub coconut oil into flour
Add the proven yeast mix. If dough is too dry, add more water from the remaining half cup, a little at a time, to make soft dough
Knead dough for about 5 minutes
Cover & place in a warm place, to rise
It should rise in about 30 minutes. Punch down dough and knead again
Apply either a non stick spray, oil or butter to a loaf pan. Place the kneaded dough into the loaf pan
Cover with clingwrap and leave in a warm place to rise. It should rise in about 20 minutes.
Set oven temperature to 350°F/180°C.
When the temperature has been reached, place an oven proof bowl or baking dish, filled with boiling water & some ice, on the lower rack or the same rack where you will place the bread dough
When dough rises, remove clingwrap and place tray on the middle shelf. If you have a rack above, remove that, as this bread rises quite high
The bread will cook in about 20-30 minutes. The top of the bread should be a nice brown color. Open oven & insert knife in dough. If the knife is clean it is done
Remove bread and switch the oven off. Please use oven mitts or dishcloths when touching hot items from the oven. Apply some coconut/butter to the crust of the bread
If you like the bread to be soft, cover bread with a large container. (I used a large pot) and leave until bread cools
Slice and eat any way you like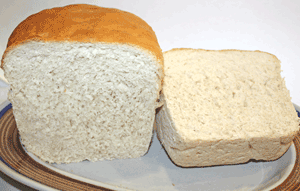 Bread sliced to show texture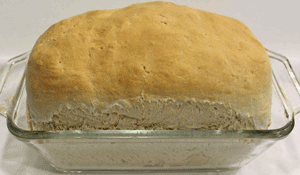 Baked Loaf just out of the oven

Bread dough covered clingwrap, then clingwrap removed & ready to be baked

Dry Yeast measured with a 5ml measure: Yeast mixed with sugar & water: proving

Flour with thick coconut oil, ready to be combined with yeast mix: Dough rising
If you have any questions or would like to add a recipe of your own, email me, Nirmala, at
pather@qualitylivingstyles.com
I will be happy to help in any way I can. The site will be regularly updated with tasty recipes, hints and tips. You can also reach me via the