Puri, A Delicious Indian Bread
Recipe by Suchilla Leslie
Puri is one of several kinds of Indian bread. The soft type is eaten with curries most often. There is also a a crisp version that is generally eaten as a snack with a savory sauce. This popular snack is Pani Puri. The sauces is quite liquid, therefore it's name Pani, meaning water in Hindi.
There are numerous recipes for puris. They also differ in size and shape, from the basic to exotic puris with herbs and spices, small dainty puris to large puris, from shapes that are round, square, diamond shaped & ovals to triangles. Puris are fried in ghee, making them very rich and also cholesterol laden, or fried in oil. Here is an example of Puri/Poori with a herb.
Because Puris are generally rich I would not recommend it for everyday fare, but served on special occasions, puris are delicious and make excellent accompaniments to curries and snacks such as Patha. Laying the puris on paper towels after frying does help to remove excess oil.
I have been making puris over the years, but recently when visiting a dear friend, Suchilla Leslie, I tasted the most delicious puris that were cooked to perfection & not soaking in oil. Sushie, as we like to call her told me the secret of her non-oily puris. She uses 1 teaspoon of baking powder per cup of flour. As soon as I was able to, I tried Sushie's puri recipe. I am very pleased with the results and therefore I am sharing it with you
Suchilla is also a talented cook, & a warm host who has many recipes to share. Here is her puri recipe.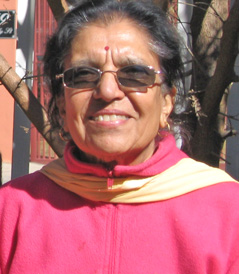 Suchilla Leslie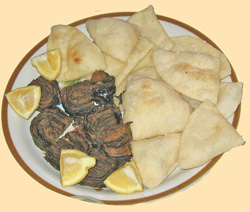 A delicious plate of Puri Patha,(made the traditional way), by Suchilla
Suchilla Leslie (nee Soni) was my supervisor at Durban Indian Child Welfare Society in Durban, South Africa. She taught me so much, techniques to interview, to write reports, to empathize and to be kind and gentle, like she was with us, fledgling social workers. Although we have been separated by cities for several years, and now by continents, I am still grateful for knowing a special person like Suchilla Leslie
In her years of work with the National Council for Child and Family Welfare, in Johannesburg, South Africa, Suchilla worked on important projects to ensure the rights of children. This included research and collaboration with other resources to end child trafficking and all forms of economic exploitation of children. She also recommended and drew attention for the need to improve the facilities and the care of children placed in residential and private homes.
Her work has influenced current legislation in the South African Childrens' Bill, for the prevention of exploitation of children in any form. She has been recognized for her work with several awards.
If you have any questions or would like to add a recipe of your own, email me, Nirmala, at
pather@qualitylivingstyles.com
I will be happy to help in any way I can. The site will be regularly updated with tasty recipes, hints and tips. You can also reach me via the
Contact Form