Aloo Parata
The Aloo or Potato Parata recipe is a result of a viewers request. As I had not made Aloo Parata before this occasion, I asked a good friend, Chhaya Shah for her recipe. She kindly gave me a list of ingredients that she uses. I used her suggestions and then worked out the amounts that should be used.
I am very happy with the result. The Aloo Parata is delicious, cooks beautifully, rising quite high. I enjoyed it with just plain butter and a cup of tea. Served with curries is it also delicious.
The first part, making the roti/parata dough is the same as the recipe for Vegan Roti. The quantity is just doubled. Here is the recipe.
Ingredients for Potato Balls For Parata
1 potato medium-large size
1 tblsp oil
1 tsp. whole jeera/cumin seeds
1 tsp. ground ginger
½ tsp. jeera/cumin powder
1 tsp. coriander/dhania powder
1 tsp. salt
1 tsp. lemon juice
1 small crushed green chili, (optional)
a few sprigs of finely chopped coriander/dhania leaves
Method for Potato Balls For Parata
Wash and then wrap a potato with clingwrap. Microwave on high for approx. 5 minutes or until soft
Remove from microwave, when cool, remove clingwrap,skin & mash potato
Heat oil. Add cumin seeds, green chilies & spices
Add mashed potato and blend with spices
Add salt and switch off stove. When cool add chopped coriander/dhania leaves
Form into 8 even sized balls and keep aside
Ingredients for Parata
2 cups all purpose flour
About ½ cup extra all purpose flour for spreading on board
4 tblsps.oil & a little more for spreading on roti while cooking
½ tsp. salt or to taste
Almost 1 cup of warm-hot water. You may not use it all, so do not pour it all at once
Method
Combine 2 cups flour and salt
Add 4 tablespoons oil and mix
Follow with about 1 cup of water. Do not add all at once, mix ingredients
Mix, knead and try forming a ball. If it feels dry, add little more water at a time, continuing to knead, until you get a smooth ball of dough. Add remaining water, a little at a time, as necessary, to make a soft pliable dough
Kneading does help to allow air which increases the rising and even cooking
Form into 10 balls. Make a hollow in the ball and add 1 ball of potato
Now enclose the potato ball in the dough. Shape into a ball
Sprinkle flour on board to avoid the dough sticking, then roll carefully
Turn and roll the other side, taking care not to expose the filling
Cook on tava/pan. Apply a little oil on roti top and press on one edge to encourage the dough to rise
Turn and cook the other side
Repeat the process until all the balls are done. Serve with your favorite accompaniment. Enjoy
My potato only allowed me to make 8 balls, so I just made the 2 extra balls of dough as plain roti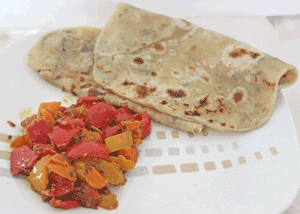 Potato Parata Served with Mixed Peppers Curry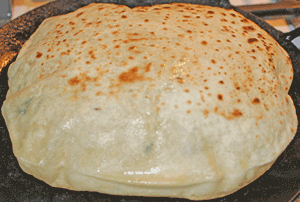 Parata flipped to cook other side, continuing to rise on tava/pan. Lightly pressing dough with spatula, encourages it to rise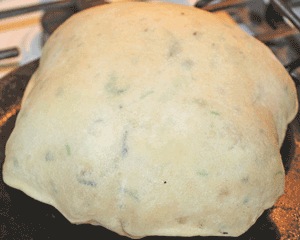 Parata rising beautifully, indicating it will be well cooked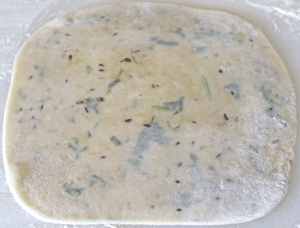 Parata dough rolled carfully to ensure filling remains enclosed. Ready for tava/pan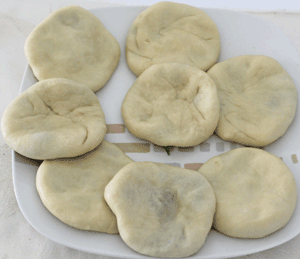 Potato Balls enclosed and ball flattened into small discs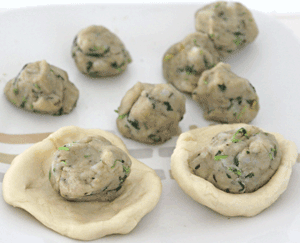 Potato Balls with a few being enclosed into the balls of dough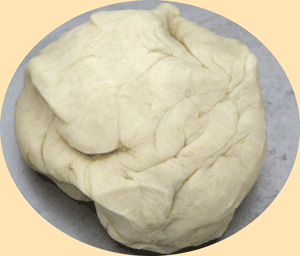 Dough formed for Parata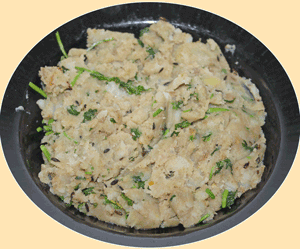 Aloo/Potato braised in oil and mixed with spices, ready to be balled

About the Aloo Parata Recipe
The potato that I used was just enough to give me 8 balls for the amount or dough that I had. This recipe does depend on the size of the potato. I suggest that you taste the potato mix before you make it into balls. If it has a nice spicy taste then it should be fine. But if you find it is tasting flat, do apply more dhania and jeera powder and perhaps ginger as well.
You can make the potato ahead of time and keep it in the fridge. I was very pleased in the way the parata/rotis would rise as they were cooking. It is the filling in the paratas that make them rise that way. Also applying just a little pressure with a spatula encourages the rising of the parata.
This vegan Aloo Parata is not just nice tasting, it is also healthy for you as there is very little fat used. Canola oil is regarded as one of those good for you oils. Here is a link if you would like to find out more about the benefits of, canola oil.
If you do not have Canola Oil where you live, just use the oil that you generally use or look for a "good for you oil" in stores near you.
If you have any questions/comments or would like to add a recipe of your own, email me, Nirmala, at :
pather@qualitylivingstyles.com
I will be happy to help in any way I can. The site will be regularly updated with tasty recipes, hints and tips. You can also reach me at Contact
Please note: Do remember to include your email address when you use the contact form. I have no other way to respond to you if your email address is not included. Thanks.