This is a very easy recipe for pizza and it tastes really good. You may use the toppings that I have suggested or use toppings that you prefer. This basic recipe can be used to make a simple pizza like Margherita or a more exotic one with pineapples and a variety of mushrooms.
You may add garlic or any herbs like rosemary into the dough, just to add a different flavor.
Make sure that the yeast is still fresh, check the expiry date. Using the correct temperature of water is important in ensuring that the yeast is effective. The temperature of the water should be 110 °F/43°C. (Hint) To ensure the yeast rises, set the bowl with the yeast and water, in another bowl that has hot water.
Here is the recipe.
INGREDIENTS
1 package quick rising dry yeast
1 cup plus 4 tsps. hot water water 110°/F43°C
1 tsp. sugar
2 ½cups all purpose flour
1 tsp. salt
¼ tsp. Olive oil to prepare bowl
cornmeal/mealie meal to spread thinly on pizza tray
Pizza toppings
1 cup pizza sauce. Please click the link for Recipe for Pizza Sauce/Spaghetti Sauce
6 button mushrooms,a cup of mixed colored peppers & and half sliced onion
1-2 cups mix of grated cheddar & mozzerella cheeses. I have used a mix of Soy Cheddar and Mozarella Cheeses
1 tblsps. Olive oil
A few basil leaves cut into fine pieces & a few for garnish
METHOD
Dissolve yeast and sugar in ¼cup of water
In a bowl combine remaining 3/4 cup of water with 2 cups flour & salt. When yeast bubbles, add flour to mixture
Stir and turn onto a floured board. Add more water if the dough feels stiff. I added 4 teaspoons. Let dough stand while you clean the bowl. Coat inside of bowl with olive oil
Knead dough 10 minutes, adding flour as necessary to make it silky. Do not add all the flour at once. Return to bowl and cover with lid or firmly, with clingwrap
Keep in a warm place for 2-3 hours. The dough should rise until double its size
Punch down and flatten on a well-floured board. Pound dough with heel of hand and lift to stretch it. Work dough into a circle, about 14 inches in diameter.
Use a rolling pin if necessary. Sprinkle cornmeal on baking tray or pizza stone and place dough on it . Preheat oven to 400°F/180°C.
Apply pizza sauce. Add toppings & garlic. Sprinkle with basil and 1 tablespoon Olive oil
Bake in oven for 20-30 minutes or until crust is brown. Let Pizza cool for 5 minutes, then slice
Serve with a green salad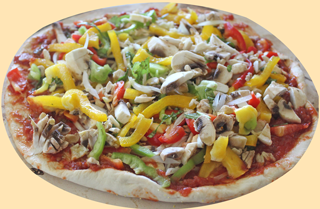 Vegetable Toppings on Pizza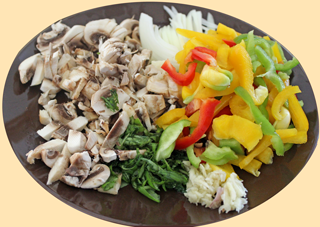 Fresh Vegetables For Topping. The choice for toppings depends on user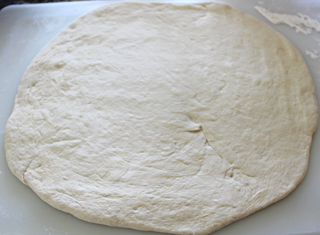 Dough being shaped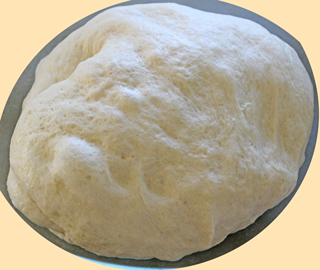 The Yeast has helped the dough to rise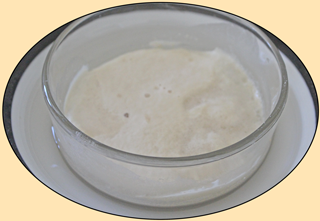 The yeast mixed with water has formed bubbles and has risen
The toppings can be prepared while you wait for the dough to rise. You may make one large pizza or divide the dough and make 2 smaller pizzas. I prefer to do this.
You can also use part of the dough to make a Calzone, which is pizza that is basically folded and baked. You may add Parmesan cheese as well. For this recipe I used non-dairy cheese, but of course, you may use the cheese that you prefer.
If you have any questions or would like to add a recipe of your own, email me, Nirmala, at
pather@qualitylivingstyles.com
I will be happy to help in any way I can. The site will be regularly updated with tasty recipes and hints and tips. You can also reach me via the Contact Form