Chickpea/ Channa Roti, A Delicious Bread
An alternate to roti, wraps, tortilla, pizza, pita bread, enchiladas, canneloni, & lasagne, depending on the accompaniments.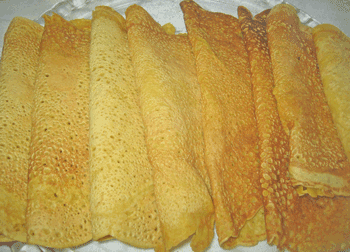 A close up of a fresh plate of Chickpea Rotis or Flatbread
This roti is made from chickpea flour. The lentil Chickpea, also known as Channa, Garbanzo Beans, Besan and Gram, have their origins in Asia and the Middle east, but are very popular all over the world.
The lentils are cooked as a curry, used in salads, made into a sauce such as Hummus, snacks & ground into flour. The lentils are very high in protein and fiber & are a good sources of folate, phosphorus and iron. Check here for details on the nutritional value of chickpea flour
The 2 varieties of chickpeas are
Desi,
which is small and dark and
Kabuli
light skinned and used more commonly in the United States.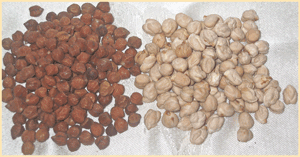 The Dark Chickpea, Desi, on the left & the lighter variety, Kabuli, on the right
In attempting to support my son, Shyam, in limiting his carb. intake, I created a roti with chickpea flour. I made a pancake like batter and cooked this on a non-stick pan. It cooked very well, light, with a nice soft texture. It made an excellent accompaniment to curries.
Shyam enjoyed these rotis as it tasted good, gave him a feeling of fullness, yet provided a high percentage of protein & almost half the amount of carbs. that are in regular bread or roti. Please note that you do have to make this roti on a good quality non-stick surface. A very small amount of oil is used. A spatula is just lightly dipped in oil and spread on the surface of a non-stick pan or non-stick griddle.
The total time, (including preparation), to make about 6 rotis is approximately 20-30 minutes. Here is the recipe for Chickpea/Channa Roti. It makes a great substitute for roti, wraps or bread, is nutritious and very low in calories.
This roti is unlike the other rotis in my recipe collection. No butter or ghee is used. Oil is used very sparingly. It is an excellent bread for anyone avoiding gluten and wanting to lose weight by reducing carbohydrates. It is also suitable for Vegans. For those totally avoiding gluten in their diet, you may substitute the 2 tablespoons of all purpose flour with all purpose gluten free flour.
I have eaten chickpeas in many forms and enjoy them all. If you look at my Quality Desserts site, you will notice that chick pea flour is an ingredient in many sweet dishes. This flour can be used to make savory as well as sweet dishes. It is also used as a thickener.
The flours of the 2 types of chickpeas differ in color as well as texture. If using the darker lentil, also known as black lentils, (kala, in Hindi), you may need more water to thin the batter. So after the first cup of water, use small amounts until the batter reaches a pouring consistency. This chick pea roti or flat-bread was adapted from a recipe for chickpea omelet, created by the Radha Soami Satsang Beas, South Africa. The book is titled, Vegetarian Recipes, Compiled without the use of flesh, fish or eggs
You may purchase chickpea flour from some regular supermarkets, or the health food section of supermarkets, health food stores or most Asian & Indian grocers. For Your convenience you may also purchase the chickpea/garbanzo beans flour from the Quality Store with a click of your mouse. If you have any questions or would like to add a recipe of your own, email me, Nirmala, at

.
I will be happy to help in any way I can. The site will be regularly updated with tasty recipes, hints and tips. You can also reach me at Contact